Available January 2017:
Mulberry Moon
A Mystic Creek Novel #3
January 2017 (01-03-17)
ISBN-10: 0451488024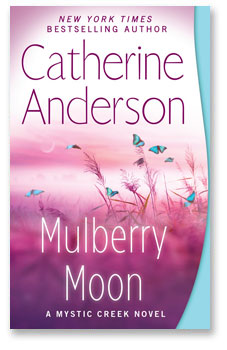 The New York Times bestselling author of New Leaf returns to Mystic Creek, Oregon, where a wounded heart finds a place to call home. . . .

After a career on the rodeo circuit, Ben Sterling longs to settle down on his farm and start a family like his brothers. He's searched all over for the woman of his dreams. Yet the only one to spark his interest is the new owner of the local café. Getting her attention, however, won't be easy.

Sissy Sue Bentley has worked hard to make it on her own, and she doesn't need another man in her life. From her alcoholic father to the men she's dated, who were after only one thing, they are nothing but trouble. Except Ben keeps showing up whenever she really needs help. Sissy struggles to deny her growing feelings for him—but soon Ben's tender concern has her hoping for a happier future. Then her past comes barreling back into her life, and it will take more than the love in Ben's heart to hold them together.
New Leaf
A Mystic Creek Novel #2
January 2016 (01-05-16)
ISBN-10: 0451418352
ISBN-13: 978-0451418357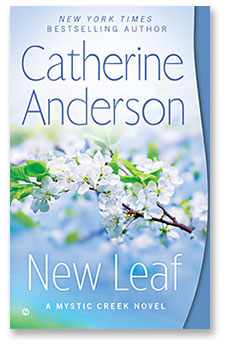 The New York Times bestselling author of Silver Thaw returns to Mystic Creek for a new novel about a love that inspires the courage to start over…and the strength to reclaim a dream.
When Taffeta Brown was viciously betrayed by her wealthy husband, she lost everything—including custody of their daughter, Sarah. Now that Taffy has moved to Mystic Creek, Oregon, to start over, she unexpectedly meets the one man who might help her get Sarah back.
Barney Sterling, a local lawman, finds himself drawn to the lovely, guarded Taffy, but he's stunned by her proposition—that they marry immediately to improve her chances of regaining custody of her daughter. Barney takes marriage too seriously to commit himself to a woman he hardly knows. Yet soon his sympathies fall with the desperate Taffy, and pretending to be in love becomes the easiest part of the plan. But they have no idea what they're up against, or what they're willing to risk to make a miracle come true in Mystic Creek.
Order now from:
Silver Thaw
A Mystic Creek Novel #1
January 2015 (01-06-15)
ISBN-10: 0451418344
ISBN-13: 978-0451418340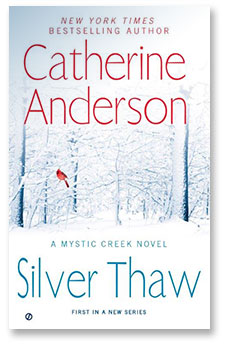 From the New York Times bestselling author of the Coulter and Harrigan Family novels comes a brand-new contemporary romance series about first love, second chances, and hope reborn …
After years of living in fear of her husband, Amanda Banning has left him and moved to Mystic Creek, Oregon, for a fresh start. But she's having a tough time providing for herself and her six-year-old daughter. Writing her secret yearnings on slips of paper and sending them into the wind helps her cling to the hope that things will get better … and that she can find happiness again.
Jeb Sterling has no idea that the handwritten messages he finds scattered across his land are the first hints that his life is about to change. Nor does he understand why he feels so compelled to help Amanda Banning and her daughter when a cold snap leaves them temporarily homeless. Maybe he's inspired by Amanda's courage or perhaps by her beautiful brown eyes. Either way, the man who once renounced love suddenly finds himself willing to do anything for the pair. Amanda seems to have given up on her dreams, but Jeb refuses to quit until he makes her every wish come true …
Order now from: